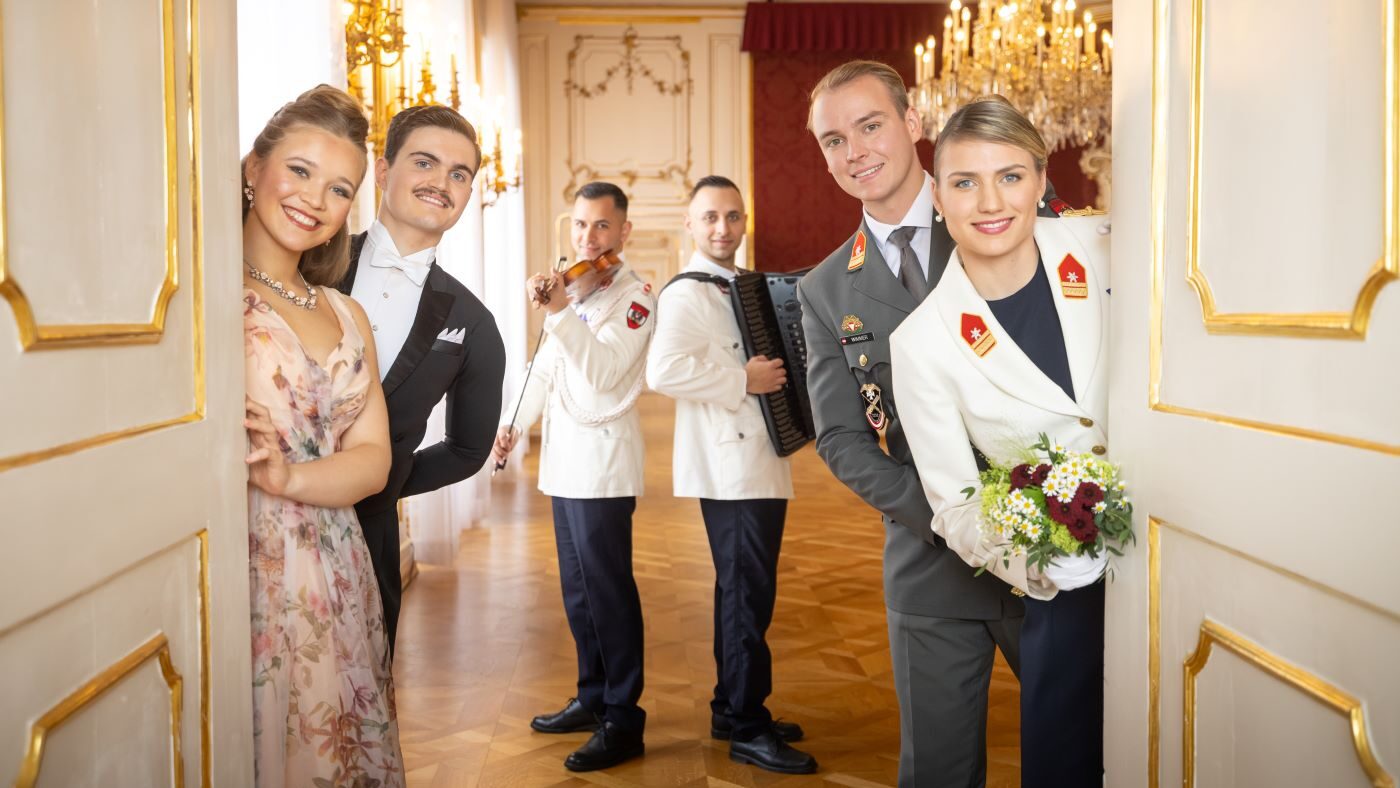 SoundS of Music!
It is no coincidence that the slightly altered title of the worldfamous musical about the Trapp family has been chosen as the ball motto because the Officers' Ball has been known for its musical diversity. We are proud to offer our guests two string orchestras, a big band, a folk music ensemble as well as three music bands playing modern dance music. Therefore, "SoundS of Music" will ring out towards our guests, while they promenade through Hofburg Palace.

We are particularly pleased to have the Vermont National Guard as our partner this year. In addition to the military cooperation agreement, we are also connected with Vermont through a musical-historical speciality – the musical "The Sound of Music", which is known all over the world. It tells the eventful life story of Georg von Trapp, a highly decorated Austro-Hungarian submarine commander, and his family in
typical musical dramaturgy.

While for us officers the military achievement of Captain Georg von Trapp stands in the foreground, on the evening of the ball the lively and popular music of Richard Rogers and Oscar Hammerstein will take centre stage and many a catchy tune will inspire us to hum along.

We are looking forward with our guests to a glittering ball night, beautiful music in all styles and hope that you, esteemed ball visitors, will dance just as enthusiastically across the dance floor as Julie Andrews does in the film.
---
Timetable – Key data
Entry: 8.00 p.m.
Beginn: 9.30 pm
End: 4.00 pm
---
Program
9.30 pm Opening Ceremony in the ballroom – Festsaal
Opening Fanfare
Entry of the Young Ladies and Gentlemen's Committee
Ceremonial entry of the guests of honor
Federal anthem, European anthem
Show Program
Demonstration of the Guard Music Band
Polonaise of the Young Ladies and Men's
Committee Dance Performance of the Young Ladies and Men's Committee
Welcome words
Welcoming by the Chief of the General Staff and President of the Allumni Association Alt-Neustadt Opening of the Ball by the Federal Ministry of Defense
Opening waltz by the Young Ladies and Men's Committee
12.00 pm
Midnight show "SoundS of Music"

Audience quadrille
01:30 am Folk Dances "This is Austria"
Performance to dance along
04.00 am Taps in the ballroom, Ball finale
All program points can be tracked via video in most ballrooms.
---
Dresscode
Ladies: Large Floor Length Evening Gown, Uniform (Large Formal Suit)
Gentlemen: Tailcoat, Tuxedo, Uniform (Large suit)
The Ball Committee reserves the right to deny access to persons in non-matching clothing!
Scroll through our picture gallery of the last Officers' Ball to maybe get some suggestions
---
Floorplans
Zoom function: Move your mouse or finger over / on the plans to see details