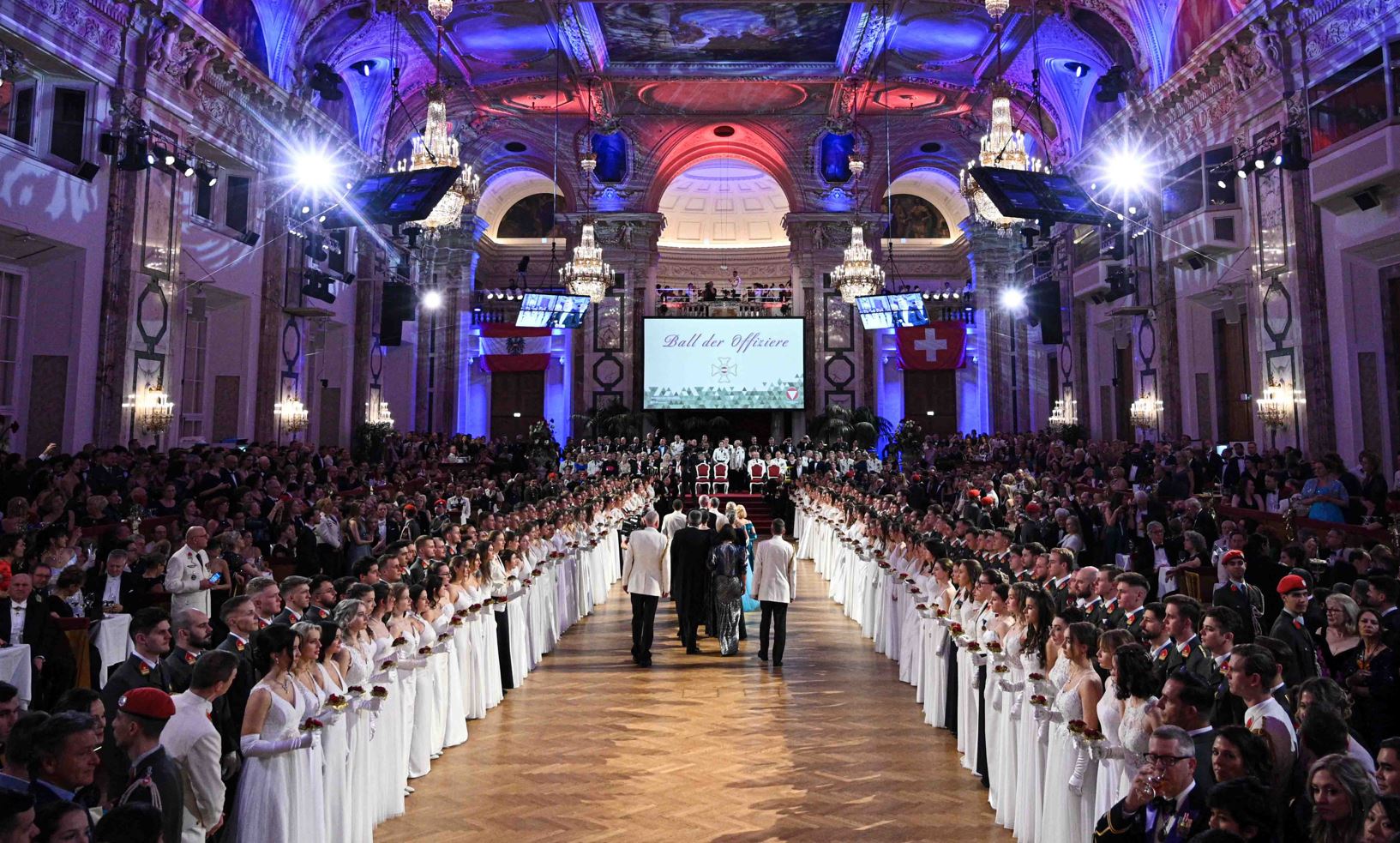 On Friday, 20 January 2023, the 74th Officers' Ball took place in the historic halls of the Vienna Hofburg. Under the motto "Herrreinspaziert" – based on a waltz by the old Austrian military bandmaster Carl Michael Ziehrer – the officers of the Austrian Armed Forces invited all ball enthusiasts to a special ball night again after a two-year break due to the pandemic.
"I am very happy that such a traditional event as the Officers' Ball can take place again after a three-year break. With all the different national as well as international uniforms and colorful ball gowns coming together in the Vienna Hofburg, the Officers' Ball is for me one of the most unique balls. I am particularly pleased about the presence of the Federal Chancellor, who as a militia officer also has a special connection to the Austrian Armed Forces," said Minister of Defense Klaudia Tanner.
In addition to Chancellor Karl Nehammer and Defense Minister Klaudia Tanner, who opened the ball together, the approximately 3,500 guests included personalities from the worlds of sports, politics, business and culture. A special connection between Austria and Switzerland was underlined during the musical and dance midnight show. Alfons Haider led through the elegant evening in the Vienna Hofburg.
After the opening waltz, danced by the Young Ladies' and Gentlemen's Committee, made up of officer candidates from European armed forces with their dance partners, and the waltz formation of the Elmayer Dance School, dance master Peter Leitner finally announced "Alles Walzer" – the start of a wonderful ball night!
The string orchestra and the big band of the Gardemusik Wien, the Swiss Army Band, a ladies' orchestra and other musical groups performed in different styles in various halls. As a midnight interlude, a musical-dancing crossing of the Alps "from Vienna to Bern" was on the program, which was performed by the Gardemusik Wien together with musicians from Switzerland as a sign of the partnership with the guests of honor of the Swiss Confederation. The obligatory midnight quadrille, which unites guests from all nations, was of course not to be missed. The evening also offered a varied program after midnight with the opportunity for folk dances, dance performances as well as a late-night star. Early in the morning, the ball night ended with the military bugle call "Taps".
The Officers' Ball is an event with a long tradition, organized in cooperation between the Austrian Armed Forces and the "Alt-Neustadt" Association, the graduates of the Theresian Military Academy. At this event, Austria's officers invite people from different social, professional and age groups to socialize. The uniforms from all over the world illustrate the embeddedness of the Austrian Armed Forces and its officers in the Austrian society as well as the international community.
We look forward to welcoming you at the next Officers' Ball on 19 January 2024! – Save the date!
Please follow and like us: